The Free Dinner Ladyboy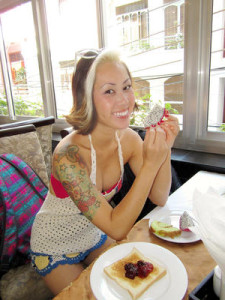 My previous article about sexual expectations may have given the impression that most every ladyboy I meet is ready and willing to join me for a good time, but that is not the case. One of my planned dates this week reminded me of another type of girl that I sometimes encounter.
I do a pretty thorough job of screening my potential dates and it often saves me from wasting a lot of time and money on a girl that is not a good match for me. It's just a matter of experience and I certainly have plenty of that at this stage of my life. The ladyboy I was going to meet this week turned out to be a member of what I call the "treat me for dinner and/or a movie" group. A good looking girl that makes it appear as though she is interested in dating, but is really only after a free night out.
I had actually met this ladyboy (HG) a couple of years ago and I had forgotten all about it. She was in my contacts list on one of my mobile chat apps and I decided to say hello to her after noticing how good her photo looked. We chatted a bit and then decided we should meet up. I asked her idea for a good time and place and HG was quick to reply with 2 options that just happened to be very close to where she lived. That's warning sign number 1.
These types of girls usually recommend their favorite places nearby their home so that they are assured of getting something they like with a minimal amount of effort on their part. Their usual schedule includes a 5 minute walk to the location, 10 minutes of dull chat, 15 minutes consuming their favorite dish, 10 more minutes of dull chat including an attempt to convince their date that he should take her out for dinner again sometime, and then a 5 minute walk back home in time to watch their favorite television drama series.
I selected one of the restaurant options I was given and then HG promptly asked to have my assurance that the dinner was going to be my treat. I ignored her question and went on discussing what time would be best to meet there. We finally agreed on a time and then HG again suggested that it should be my treat. I let her know that I was a gentleman and she need not ask or suggest that I should be the one to pay. I also requested that she not do that again because it seems rather tacky to do so.
Apparently HG didn't like my comments and, this being Thailand, may have felt she was a victim of the "losing face" phenomena. She said she didn't feel good about meeting me now. I stated that if she had a problem with me being honest then it was probably better not to waste any more time chatting. And with that HG disappeared.
I remembered that I had seen HG before on Skype and decided to get in touch with her there a couple days later just to see what she would say. I have a different names and photos on different chat programs so I was hoping she wouldn't recognize me. She responded and I could tell she had no idea I was the same guy she talked with a couple days earlier. We chatted for a few minutes and, surprise, HG then invited me to come to meet her at the same place she suggested before. I said that sounded good, but that I would like to share webcams with her for a few minutes.
It wasn't until I saw HG on the webcam that I realized I had met her before. In fact, I had actually gone to dinner with her two times previously. It all came rushing back to me and I asked HG if she remembered as well. She had no clue who I was and didn't remember a thing. I can't say I was surprised at her forgetfulness as it had been a couple years since our last date and it was now becoming clear to me that she was a member of the "free dinner" group and had most likely been on hundreds of dates with hundreds of different guys over the past few years.
I recalled the feeling I had the last time we met. I could sense that she was not really interested in me at that time, but she was perfectly willing to meet for dinner if I could agree to her suggestions for the time and place. I stated this to HG while we are on Skype and asked her how long she has been single. She said it's been years since she last had a boyfriend, but she couldn't come up with a reason why that was. I suggested that maybe it was because she preferred to stay single and enjoyed being treated for dinner without ever having to actually commit anything to anyone. And with that HG disappeared once again.
I was thankful that I had recognized HG and had saved myself the time and money. I have met other ladyboys that gave me the same impression. They are happy to meet you for dinner and/or a movie at a place they recommend near them, but they never show any real interest in getting to know you. They are simply there for the free ride and are quite happy to continue with that life. I have seen these girls' profiles on the dating websites for years and years. They are perpetually single and ready to mingle, but seemingly have no intention to go beyond that.
I suppose some of these girls are just passing the days until a wealthy attractive guy comes along and offers to treat them for an extended period of time. But I still think there are some who prefer their freedom and are satisfied with their version of dating. It certainly is not something that I want to be a part of though and I'm guessing most of you feel the same. The best measure is to thoroughly screen your potential dates before agreeing to meet and hopefully you will be able to avoid these girls as much as possible. Until next time, please add your comments below.