Devin's Ladyboy Dating 14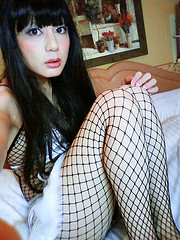 It's been a few weeks since I last reported on my ladyboy dating experiences here in Bangkok. I have slowed down a bit lately, but I am still dating and enjoying my time with many of the beautiful girls I have written about previously. I recently had an interesting evening in which I met 2 new ladyboys that I would like to tell you about.
I had been in contact with both of the new girls for a few weeks and had promised to come visit each of them when I had the chance. They both live in the same area about an hour away from me on the outskirts of Bangkok, but I'm sure they know nothing of each other. I had it in mind to find a time when I could manage to meet them both in the same evening. The stars finally aligned and I headed out one evening looking forward to a doubleheader.
The first girl I met was IP and she had asked me to come right to her room for some fun. We had shared a few photos so I had a pretty good idea what to expect when I got there. The odd thing about her was the requests she had made to me. She wanted me to bring along a sex toy and some extra underwear that she could keep as a souvenir of our meeting. IP also asked if I would wear a costume resembling one of her favorite superheroes. I told her all those things were possible, but I convinced her that the first time should be exciting enough without all the extra props.
I made my way to her area and found myself wandering around through a bunch of different apartment blocks. I finally managed to locate her building and was soon navigating my way through some narrow hallways until I found her door. IP let me in and she looked as I expected. She is around 25 and has an average face and body. I made my way over to the bed and IP went to turn off the gay porn movie she had been watching on her computer.
I guess the movie she had been watching had put her in the right mood since she took very little time to start undressing me. I was happy to just lie back and let IP take over. I enjoyed her oral skills and also explored what she had hiding inside her shorts. I could tell that she must have been ready to go before I had even knocked on the door. IP made her way behind me and seemed intent on getting things going much faster than I had expected. I didn't put up any resistance though and she was soon in full control.
I figured IP would end up finishing fairly quickly and so I had it in mind to save my energy for the next ladyboy I planned to meet within the hour. I knew things had worked out as I expected when IP gave a final groan and fell back on the bed. I could see that she was waiting for me to take care of things on my end, but I only congratulated her on a job well done and then made my way to the restroom.
I quickly got cleaned up and came back out to see how IP was doing. I could tell that she was still wondering why I didn't finish things myself, but I wasn't overly concerned with any disappointment she might be feeling at that time. All I could think about was how I could make a fairly fast exit without making it obvious that I had another girl waiting for me around the corner. I went over and relaxed on the bed and tried to make it look like I was really tired and ready to sleep.
IP seemed like she bought my acting job and that made it much easier for me to excuse myself with the reasoning that I needed to make it home at a decent hour. She suggested that I sleep there, but I honestly had no desire to spend any more time with her even if I didn't have another girl waiting. We said our goodbyes and I hurried out of the building with my mobile phone in hand.
I was dialing up the next ladyboy as soon as I was on the sidewalk. I had informed KC that I would be getting in touch with her late in the evening once I had finished some other "business" I had in her part of town. I knew that KC had a car and would be happy to meet me wherever I wanted. I had taken note of a large bank building not far from where IP lived and I figured it would be a place that KC would know about. I was glad to hear her say that she knew exactly where I was and she would be over to pick me up in 10 minutes.
I had also exchanged photos with KC and had a good idea what she looked like. She is actually the oldest ladyboy I have ever been in contact with, but she still has a decent looking face and a great body. I only had to wait a few minutes before I noticed a car pulling over near me. I approached it and could see KC smiling through the window. I said hello as I hopped in her car and I could tell that she was happy to finally meet me. She looked very much like her photos and I was anxious to find out what she was hiding under her dress.
KC headed towards her place and asked if I wanted to get something to eat along the way. I was feeling a bit hungry so we made a quick stop to pick up something at a local food stand. It was getting late and KC asked if I planned to go back home or if I wanted to stay overnight with her. I had it in my head to stay over, but I didn't want to commit to anything until I got to know her a bit more. I said we will see how it goes and I could tell by her answer that she would be kind enough to drive me home if that is what I wanted.
We made it to her place and I was impressed with how nice it was. It was in a quiet area and was decorated very expensively. I sat on the couch as KC prepared the food for me and I admired her long slim legs. She sat down next to me as I ate and gave me a shoulder massage. She told me how excited she was to have me there and what she wanted to do with me. She also informed me that she had the nicest boobs money could buy in Thailand and I was looking forward to examining her claim.
I finished my dinner and KC invited me upstairs to join her in the shower. I accepted and put in a request to have some help washing my back. She said that she was most willing to help and so we both got undressed and headed for the bathroom. I had to agree that her breasts were some of the best I have ever seen. They looked very natural and soft to the touch. I stood under the shower for several minutes as KC took her time to make sure that she got every inch of my body clean. She even added a personal and very erotic tongue cleaning in certain areas.
I felt quite refreshed after my special shower as I went into the bedroom to lie down and wait for KC to join me. It wasn't long before she came in and started to massage my back. It was actually a terrible massage, but I let her continue because I knew it wouldn't take long for her to put those hands on more sensitive parts. She eventually made her way down far enough to discover my excitement. I spent the next 10 minutes enjoying the feel of her lips up and down my body. I finally reached down to grab KC and I was very pleasantly surprised. She was quite big now that her excitement had equaled mine.
I spent time pleasuring KC orally before we both took turns finishing as tops. It was a great experience and one that we repeated in the morning. It was a very nice sleepover and I'm sure KC would welcome me back anytime.
It's always a challenge to fit 2 dates into one evening, but this time it worked out really well for me. I will try not to wait so long to write my next article. Until then, please leave your comments below.