Where Can You Marry A Ladyboy?
We wanted to follow up on a members question about getting married with a ladyboy that was posed to us here a few days ago via the comments section. We have put together the following list and graphic to show all the countries and their current laws regarding same sex marriage. Please inform us if you know of any revisions or additions we need to make.
Countries where same sex marriage is allowed: Argentina, Belgium, Canada, Denmark, Iceland, the Netherlands, Norway, Portugal, Spain, South Africa, and Sweden. Same sex marriage is also allowed in Mexico City and the following states in the United States: CT, DC, IA, MA, NH, NY, VT.
The following places recognize same sex marriage, but do not perform it: Aruba, Curaçao and Sint Maarten (Netherlands only), Israel, Mexico and the United States (CA (conditional), MD, RI.)
Countries where civil unions or registered partnerships are allowed: Andorra, Austria, Brazil, Colombia, Czech Republic, Ecuador, Finland, France (including New Caledonia, Wallis and Futuna), Germany, Greenland, Hungary, Ireland, Isle of Man, Jersey, Liechtenstein, Luxembourg, New Zealand, Slovenia, Switzerland, United Kingdom, and Uruguay.
Civil unions or registered partnerships are also allowed in Australia (ACT, NSW, QLD, TAS, VIC), Mexico (COA), United States (CA, CO, DE, HI, IL, ME, NJ, NV, OR, RI, WA, WI), and Venezuela (Mérida.)
And here is the visual….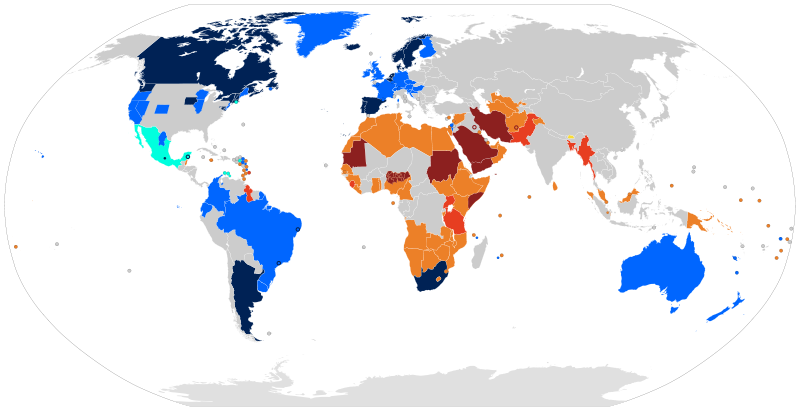 Same sex marriage allowed – Dark Blue
Other types of partnerships allowed – Blue
Marriage recognized but not performed – Light Blue
Same sex unions not recognized – Grey
Countries where homosexual behavior is illegal and punished to varying degrees are shown in red and brown.
Thailand – both male and female same-sex sexual activity is legal, but same-sex couples and households headed by same-sex couples are not eligible for the same legal protections available to opposite-sex couples.
Philippines – same-sex marriages are not legally recognized and the LGBT community is not protected by any civil rights laws.
As we mentioned in our reply to the original question, we do know of places in both Thailand and the Philippines that will perform same-sex marriage ceremonies. A simple search online should give you plenty of options to choose from. And please understand that what they offer does not currently have any legal bearing, but it does allow you to enjoy a nice ceremony where you can show your love and commitent for one another.
We hope this article helps to answer a few questions. We would love to hear from anyone that has gotten married or is planning to get married with a ladyboy. Please feel free to add your comments below.